Welcome to the Shop Local Online Marketplace!
Below is more detailed information on how to add/edit products, set up payments and much more.
Your Dashboard
A dynamic and always-up-to-date overview of how your store is performing. You can change the start/end dates at the top to get all your stores sales results. Showing you # of orders, total products sold, commission owed, and commission paid at the top. The Order Totals is a bar chart, and on the screenshot below we only had orders for one day. However, it'll populate properly for every day of orders for the report period chosen. The Product Totals give your vendors a quick overview of the the percentage of sales each product brings your stores total revenue. Hover over a slice of the pie with your mouse for the name of the product that slice represents.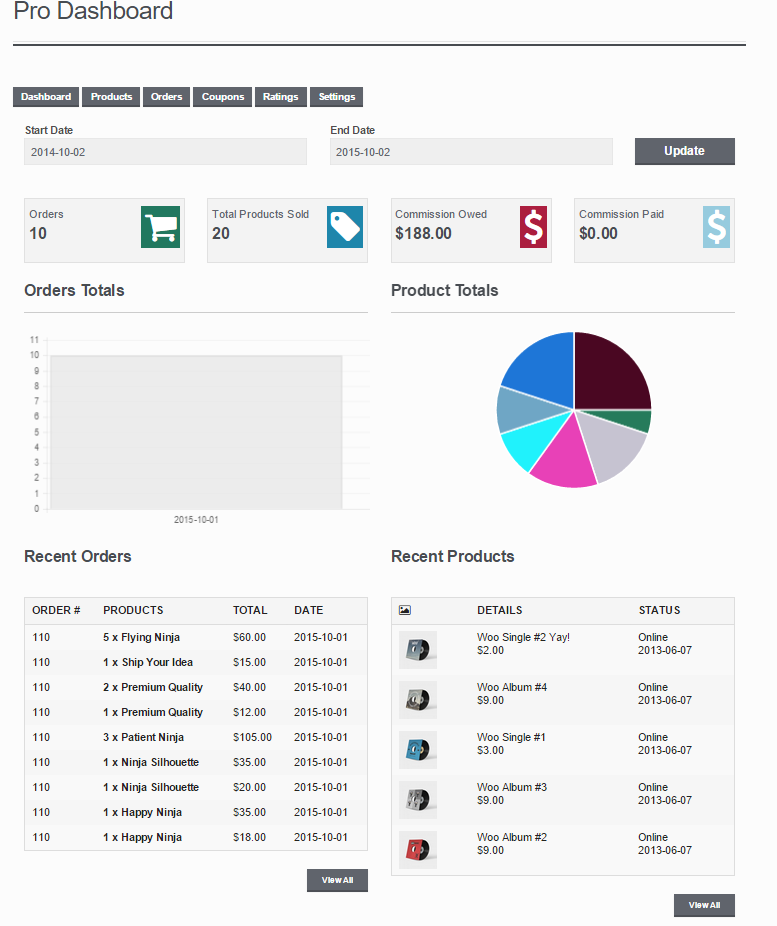 Adding and Editing Products
…is all done on the Products tab. Click it and you will see all the products your store has listed on the site, their publishing status, price, categories and tags. Hover over a product to edit, delete or view it.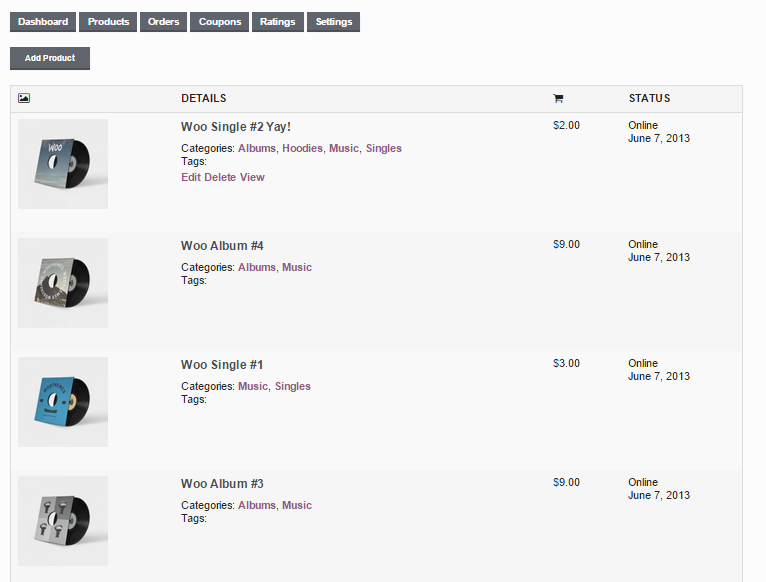 Adding a product is really easy. It's the same for editing a product. Simply edit a product or click Add Product at the top/bottom of the Products tab.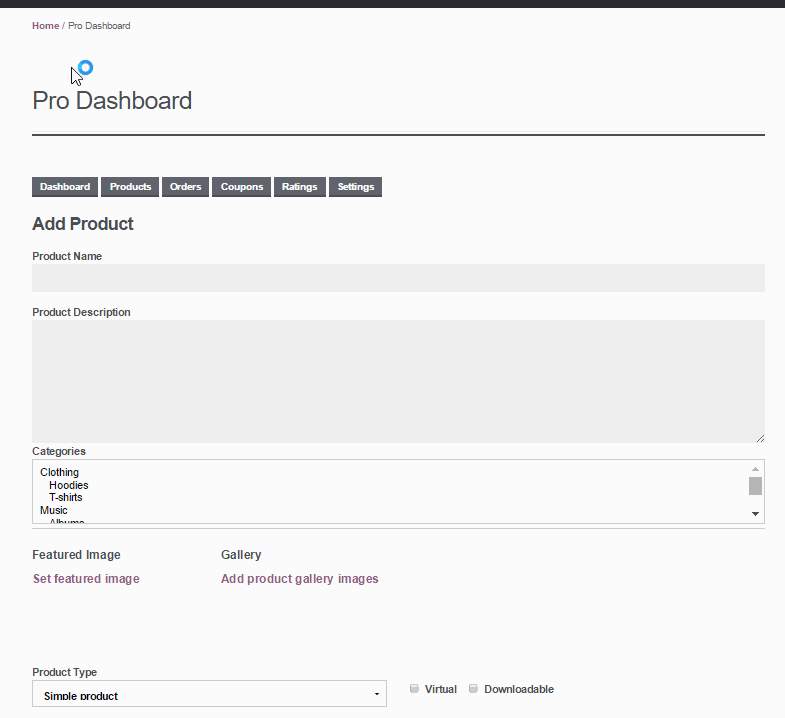 Product Type
Simple – covers the vast majority of any products you may sell. Simple products are shipped and have no options. For example, a book.
Grouped – a collection of related products that can be purchased individually and only consist of simple products. For example, a set of six drinking glasses.
Virtual – one that doesn't require shipping. For example, a service. Enabling this, disables all shipping related fields such as shipping dimensions. A virtual product will also not trigger the shipping calculator in cart and checkout.
Downloadable

 

– activates additional fields where you can provide a downloadable file. After a successful purchase, customers are given a downloadable file as a link in the order notification email. This is suitable, for example, for a digital album, PDF magazine, or photo.
Variable – a product with variations, each of which may have a different price, SKU, stock option, etc. For example: a t-shirt available in different colors and/or sizes.
Creating Variable Products
To add product variations, go to the "Attributes" tab.
You'll see a box that says "Select an attribute", select your variable (Size, color, etc) and then click the button that says "Add" next to it.
Then another section will appear underneath.
Select the "Used for variations" box.
Then in the "Value(s):" box you can select your terms. You can start typing in what you're looking for like "S" for small. You can enter in as many "valueS" as you offer.
Make sure to click the "Save Changes" button.
Then you can go to the "Variations" tab in your product and "Add Variation" click the Go button on the right hand side of the page.
Then you can choose your variation/value, enter in a price (a sales price if you'd like) stock (shipping and tax if they're different), etc.
You'll need to do this for each of your variations.
Additional Product Information
Make sure to set up the Tax Rate, Shipping and Inventory which are all essential!
Categories are equally important and you can select multiple categories. Many people search categories not necessarily specific items, you want to make sure your item is found under the correct categories.
You will also want to make sure you add Tags! The process of tagging products consists of assigning keywords or phrases to products so that they are easier to find within your ecommerce page's site search. Traffic from on-site search has the highest rate of conversion for ecommerce product pages with 10.74% of these visits resulting in sales. 
You can see the example below has multiple categories and tags.
.
Taxes
In each product make sure to select the Tax Status: Taxable, Shipping Only or None. *You will need to do reasearch to find out if your type of product is taxable.
You will also need to select the Tax Class. "Standard" includes all of the US State standard tax rates.
Shop Local will calculate and collect sales tax for orders shipped to customers in all US States.
Shop Local does not charge any additional processing fees for calculating and collecting sales tax.
Sellers can not opt out of Shop Local automatically collecting sales tax for items shipped to customers located in the states mentioned in this article.
Any sales tax collected will be then paid back to you the seller in your payout for you to pay sales & use tax.
Shipping
Vendor Store Shipping
The vendor store shipping is the default shipping options at a vendor level. All settings here will be applied to any product that does not have an override set above. Depending on the shipping system set for the vendor they will have either the flat rate or table rate options here. The vendor store shipping options can be found in
Vendor Dashboard > Settings > Shipping
The vendor shipping options includes not only the options to set default rates but also the default options on a per order basis per vendor. There are vendor specific default options including
Per order charges
Per product charges
Minimum and maximum charges
Handling fees
Shipping and return policy
Shipping from (Store address / Other )
General Fees
The following general fees are available to be set on a per vendor store level. These will be applied to any order with this vendors products in it.
Shipping From 
The shipping from allows vendors to set a different shipping address for their products from their store address. This allows vendors to have their shipping calculated based on the location of their warehouse.
Other – such as a warehouse/factory 
Shipping fees
Shipping fees are set based on which shipping system has been configured for the vendor. Either the global default or a vendor specific override.
The following flat rate options are available for the vendor store. These are the same as product or global options. This rate is used when a product rate has not been set.
The following table rate options are available for a vendor store. These are the same as a product or global options. This rate is used when a product rate has not been set.
Categories & Keywords
1.) Categories
Make sure to include all the relevant categories.
For example, a Christmas wreath could be in the following categories: Christmas, Holidays, Home Decor, & Gifts. This is important because someone might not search Christmas but may instead look in the Gifts category.

2.) Location Category
Also, make sure to include your state, city, chamber/mainstreet category so that locals can find you (as well as nationwide shoppers).
Lastly, make sure to include keywords/tags for your product. It helps to put yourself in your customers shoes and think of how they might search for your product.
Using the Christmas wreath example, it might be: wreath, christmas, holiday, decorations, holiday decorations, gifts, etc.
Viewing Your Orders
Clicking on "Orders" brings you to your orders view where you can see all the orders customers have placed for your items. You can add notes which email to the customer, add tracking numbers, mark orders as shipped, and also print a packing slip.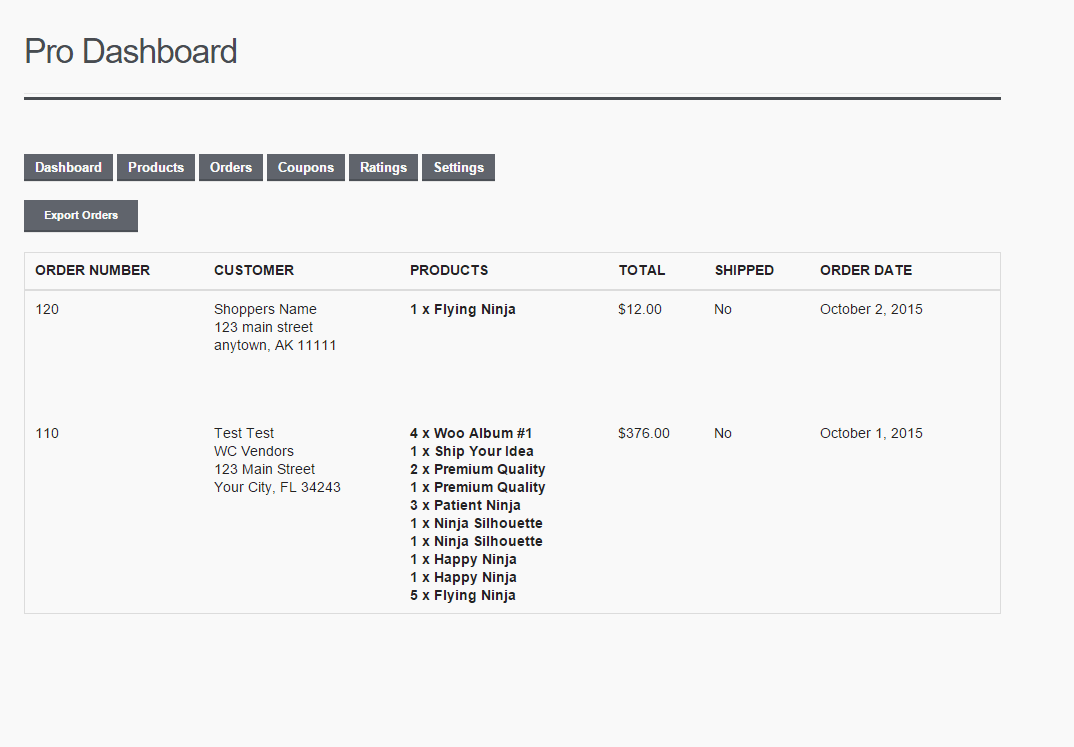 The emails the customer receives use the same templates as your other WooCommerce emails, this is what it looks like by default: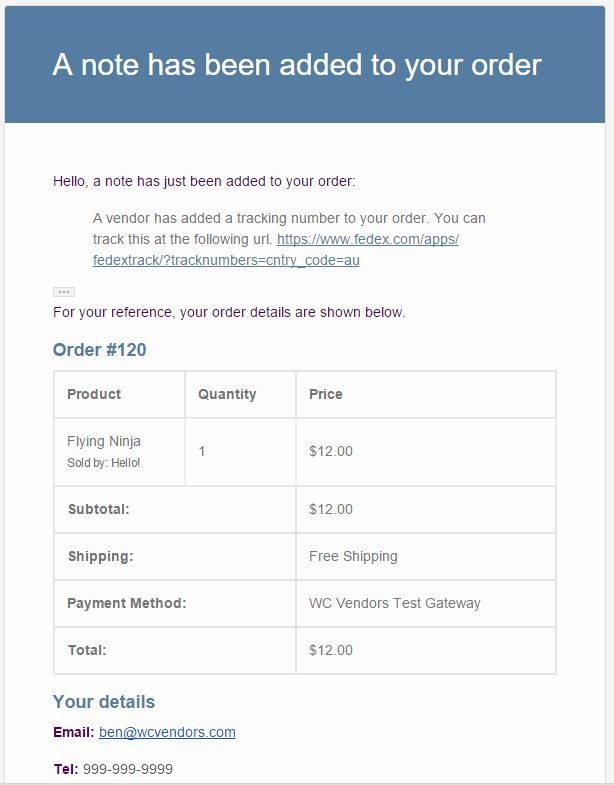 Get Paid
MAKE SURE YOU GET PAID!
It's easy! 
Go into your Vendor Dashboard and under the "Settings" tab, select the "Payment" tab. 
There you will enter your Paypal email address.
Then when an order is placed and you've shipped the item(s), updated with the tracking info, simply mark the order "Status"  as "Completed" and the money will be deposited into your Paypal account.
Ratings / Feedback
Customers can leave you 1 to 5 stars for your products by visiting their My Account page and clicking Leave Feedback. They can edit/update the feedback at any time, too, that way if you get a poor review you can work with the customer to make their experience/product better and perhaps they will update their rating! Note: Admins can edit/delete any ratings in wp-admin > WooCommerce > Vendor Ratings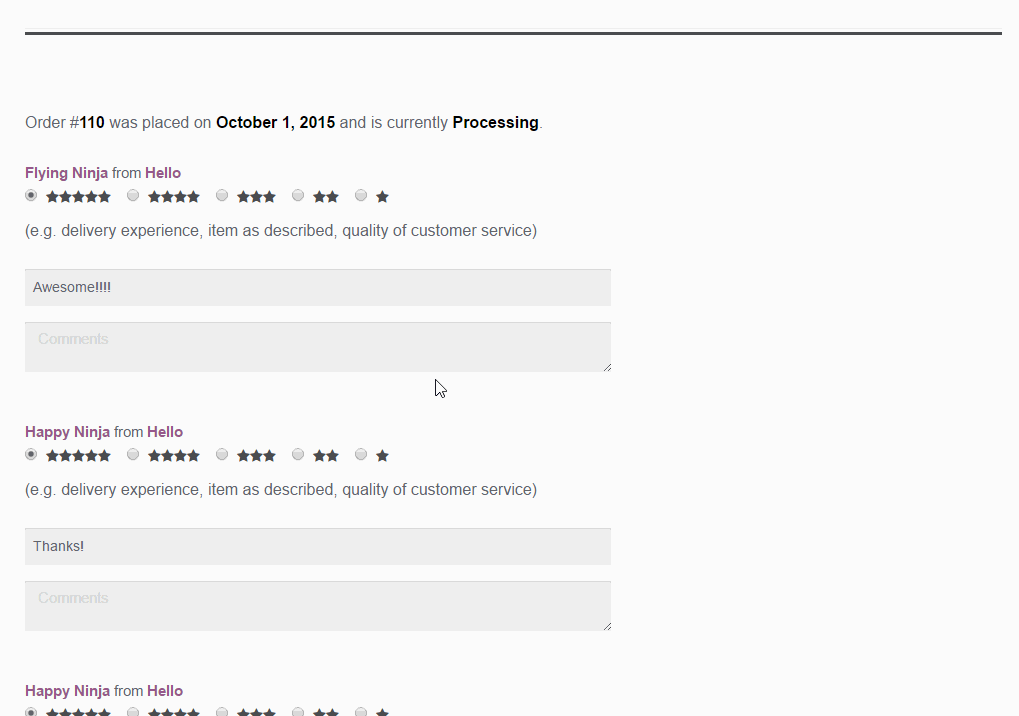 Coupons
As a vendor, you can create coupons specifically for your products. These coupons will not work on any other products, except for those in your store. You can include only certain products, include all of your products, or even include all and exclude others, or even by category! Woo! It can be a percentage discount, or a flat dollar price reduction.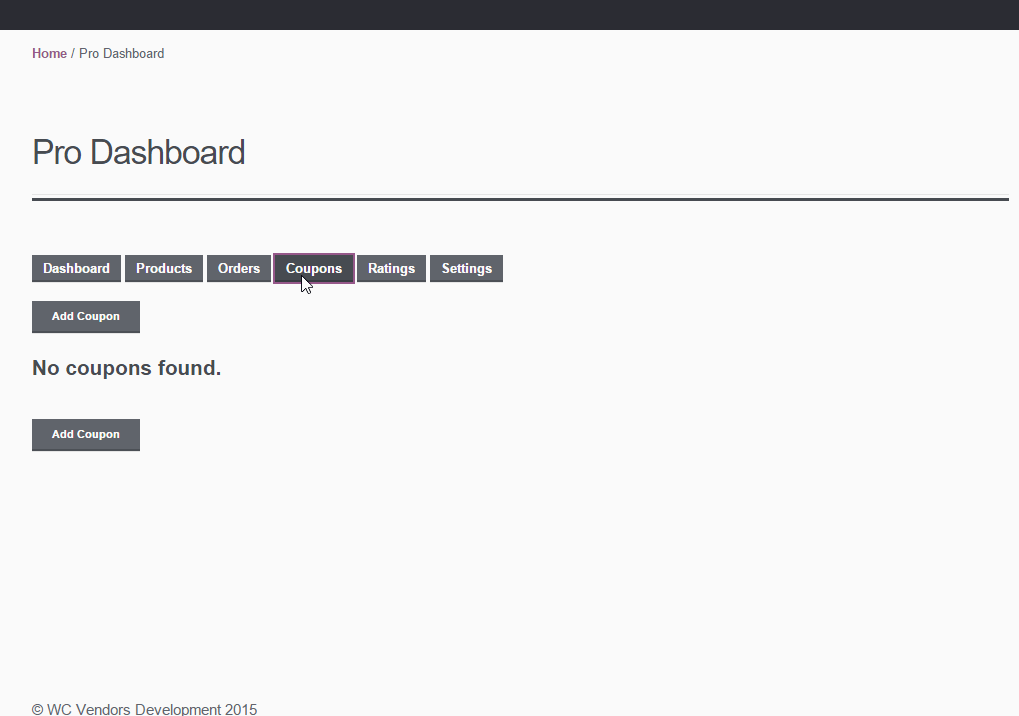 More Settings
Switching Membership/Subscriptions
To switch to a different membership/subscription simply login to your dashboard and go to the "My Subscription" tab.
There you can Switch to another membership plan.
Set up Related Products, Up-Sells and Cross-Sells
Products can be Related to each other in three ways: Up-Sells, Cross-Sells or by having the same tags or categories.

To add an up-sell or cross-sell to a product:
Go to

 

WooCommerce > Products

 

and select the product on which you'd like to show an up-sell or cross-sell.
Scroll down to the

 

Product Data

 

panel.
Select the

 

Linked Products

 

tab in the left menu.
Add the product you wish to link to by searching for it.
Update.
Note:
related products, up-sells and cross-sells are all sorted randomly.
Up-Sells
Up-sells are products that you recommend instead of the currently viewed product.
They are typically products that are more profitable or better quality or more expensive. Depending on your theme template, these products display on the single product page underneath the product's description.
Up-sells (user defined) show on the product page.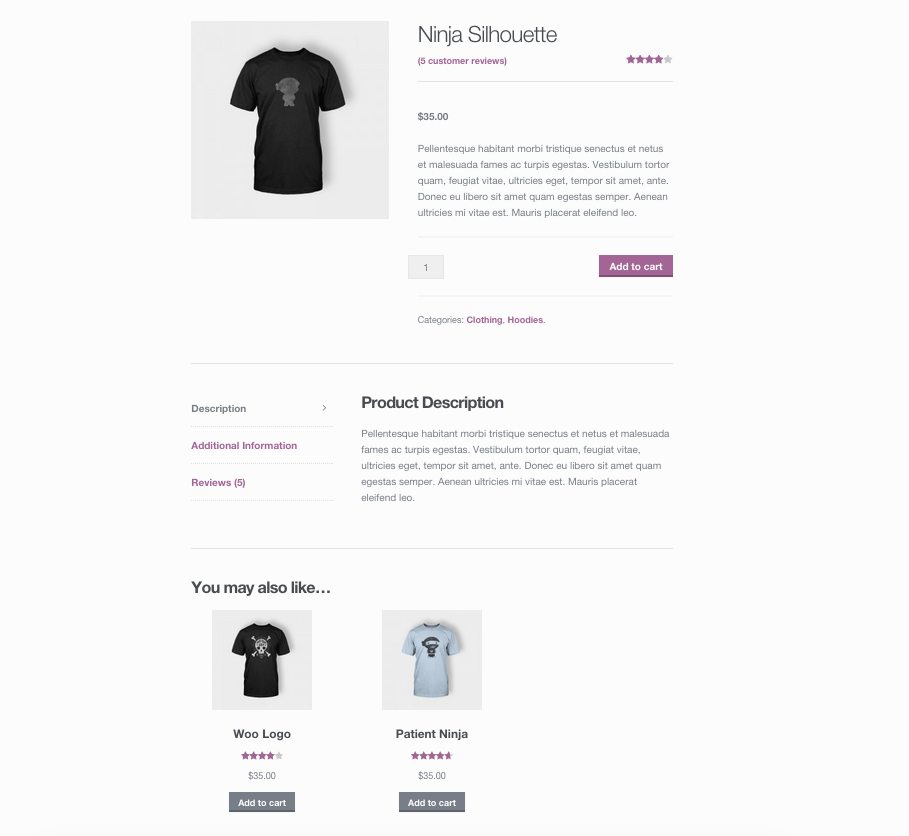 Cross-Sells
Cross-sells are products that you promote in the cart, based on the current product.
They are typically complementary items. For example, if you are selling a laptop, cross-sells might be a protective case or stickers or a special adapter. Or if you're selling a ninja t-shirt, they could be a ninja hoodie and ninja socks.
Depending on your theme template, they display on the cart page underneath the cart products table with a thumbnail image.
Cross-sells (user defined) show on the cart page.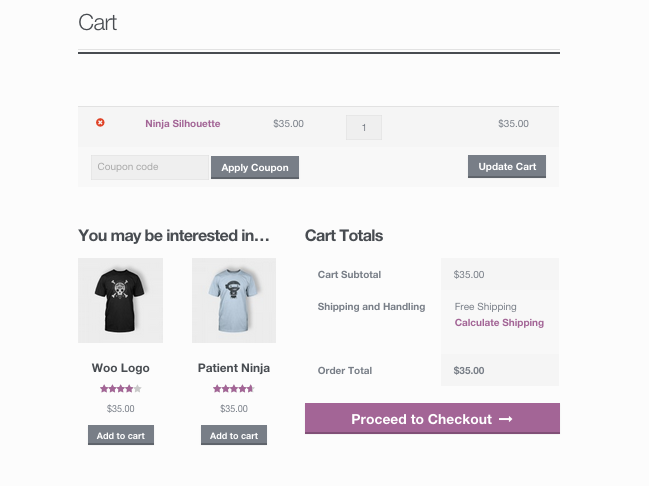 Related Products
Related Products is a section on some templates that pulls products from your store that share the same tags or categories as the current product.
These products cannot be specified in the admin, but can be influenced by grouping similar products in the same category or by using the same tags.
Related products (automatic) also show on the product page.