Welcome to the Shop Local Online Marketplace!
Below is more detailed information on how to add/edit products, set up payments and much more.
Your Dashboard
A dynamic and always-up-to-date overview of how your store is performing. You can change the start/end dates at the top to get all your stores sales results. Showing you # of orders, total products sold, commission owed, and commission paid at the top. The Order Totals is a bar chart, and on the screenshot below we only had orders for one day. However, it'll populate properly for every day of orders for the report period chosen. The Product Totals give your vendors a quick overview of the the percentage of sales each product brings your stores total revenue. Hover over a slice of the pie with your mouse for the name of the product that slice represents.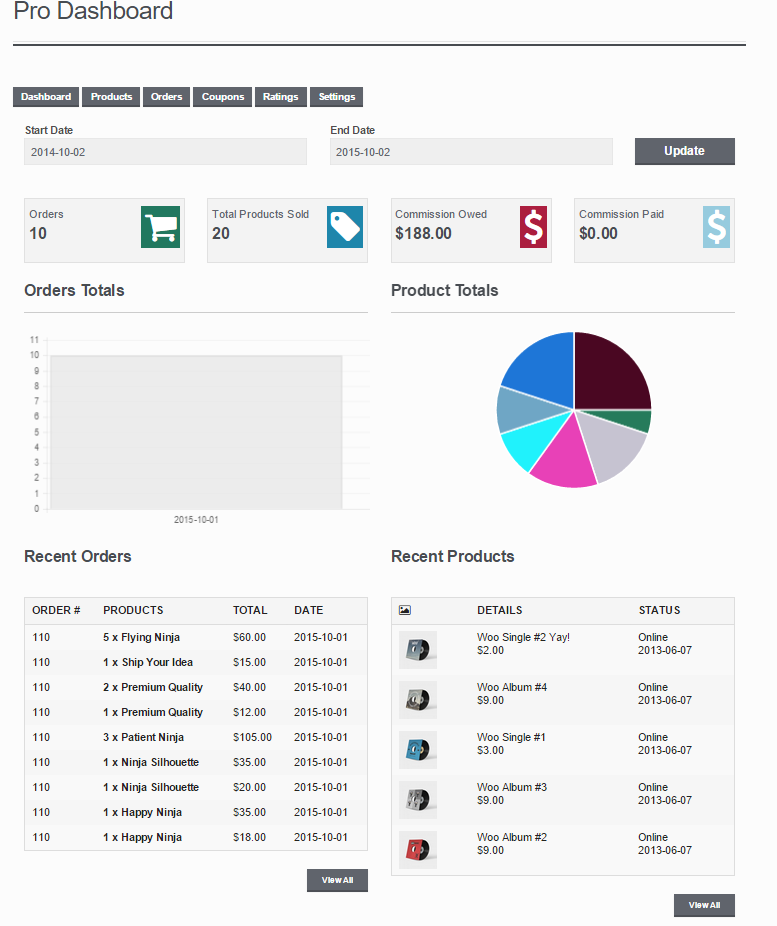 Adding and Editing Products
…is all done on the Products tab. Click it and you will see all the products your store has listed on the site, their publishing status, price, categories and tags. Hover over a product to edit, delete or view it.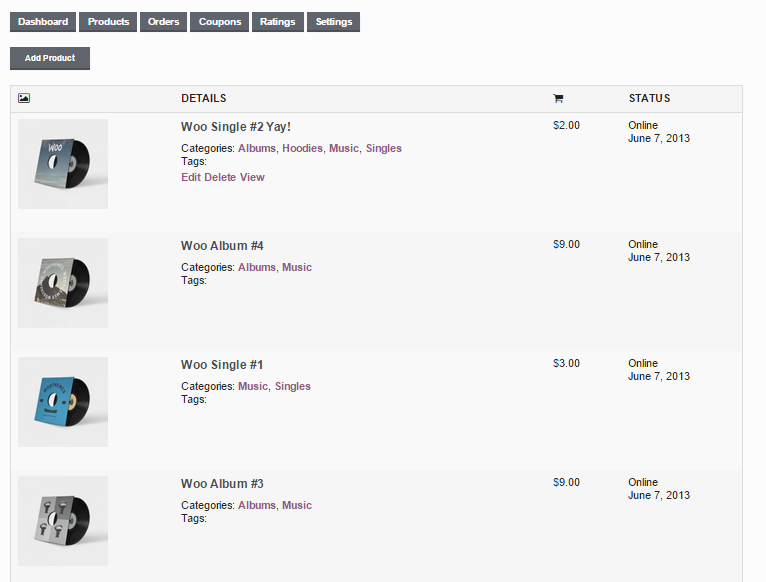 Adding a product is really easy. It's the same for editing a product. Simply edit a product or click Add Product at the top/bottom of the Products tab.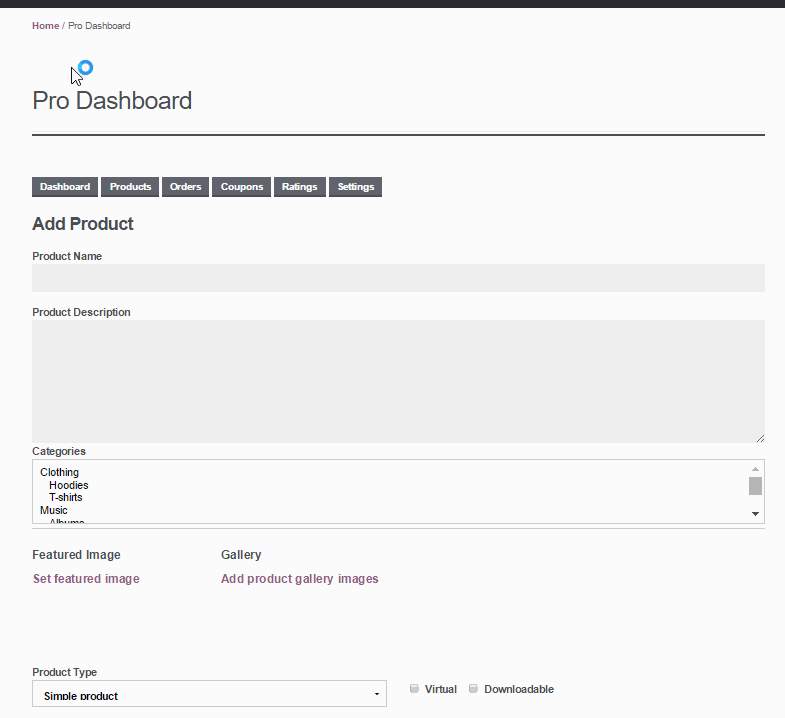 Make sure to set up the correct shipping. If you don't see a flat rate that fits your needs feel free to reach out and we can set up another setting for you to choose from. We have added an additional "Table Rate Shipping" option. It will look at all the items in the checkout cart for each vendor, and determine the total shipping by either 1) item count, 2) total weight of all items or 3) total cost of each vendors items.
Table Rate Shipping
You can manage your own tables as follows:
Go to the Vendor Dashboard.
Click Settings > Shipping (WC Vendors Pro) or Shipping Settings (Free).
To add a new shipping table:
Go to the Shipping Tables screen.
Click Add shipping table.
Give the table a Name and select the Countries it applies to.
Click Save Changes.
Once you have created and saved your table, you will notice the name of the table is now a link.  You will also notice when you mouse over that table, three options will appear:
View – Click to open the settings for the table.
Edit – Click change the table name or the countries it applies to.
Remove – Click to delete the table.
Editing a Table's Name and Countries
To edit the name or countries for an existing table:
Hover the table.
Click Edit.
Input the new table name and countries.
Click Save Changes.
Changing a Table's Priority
Tables are listed in order of decreasing priority. Higher priority tables are considered first when determining the shipping rate to apply during checkout.
To change a table's priority:
Drag the table to the desired position.
Drop the table.
Click Save Changes.
Configuring Basic Options
To start, click the table name or hover the table and click View. This will open a modal where you can configure the following basic table options:
Use Table
Selecting "Yes" means you will offer shipping to the country or countries defined in this table. Selecting "No" means you will not ship to the country or countries defined in this table.
Handling Fee
The "Handling Fee" is simply a flat rate fee that will be added to your overall shipping cost.  This field can be used to cover the cost of packing materials and handling time.  If you do not wish to charge any additional fee, this field be left blank.
Calculation Method
You are able to collect shipping charges based on a tiered system and by using one of three different criteria.  You can charge shipping based on:
Cart Subtotal – The dollar amount of your products a customer has in their shopping cart at checkout.
Number of Items – The total number of your items a customer has in their cart at checkout.
Total Weight of Items – The total weight (in the store's weight units) of your items a customer has in their cart at checkout.
Setting Up Shipping Rates
A table can have zero or more Shipping Rates set based on a tiered variable such as item quantity or weight. The variable used is determined by the table's Calculation Method.
To setup the shipping rates for a table, start by clicking the View link and scrolling down to Table Rates.
Adding Rates
To add a new rate:
Click Add Rate.
Enter a value in the Value Equal to and Above column.
Enter a Shipping Cost. The cost can be a fixed amount, or a percentage of the value of your items in the customer's cart.
Repeat steps 1 to 3 as needed.
Removing Rates
To remove an existing shipping rate:
Hover over the rate.
Click Remove.
Thinking About Shipping Rates
When you setup your shipping rates, you need to be thinking about ranges.  To illustrate, consider the table below: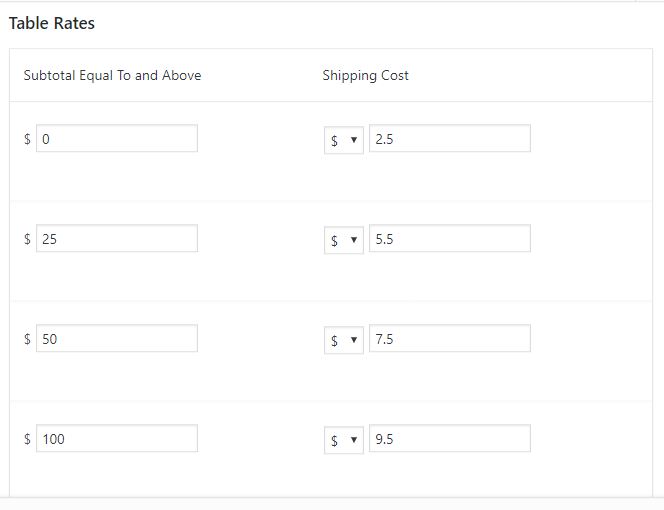 In this example, the following shipping charges will apply:
Order totals of $0.00 – $24.99 = $2.50 shipping charge
Order totals of $25.00 – $49.99 = $5.50 shipping charge
Order totals of $50.00 – $99.99 = $7.50 shipping charge
Order totals of $100+ = $9.50 shipping charge
Viewing Your Orders
Clicking on "Orders" brings you to your orders view where you can see all the orders customers have placed for your items. You can add notes which email to the customer, add tracking numbers, mark orders as shipped, and also print a packing slip.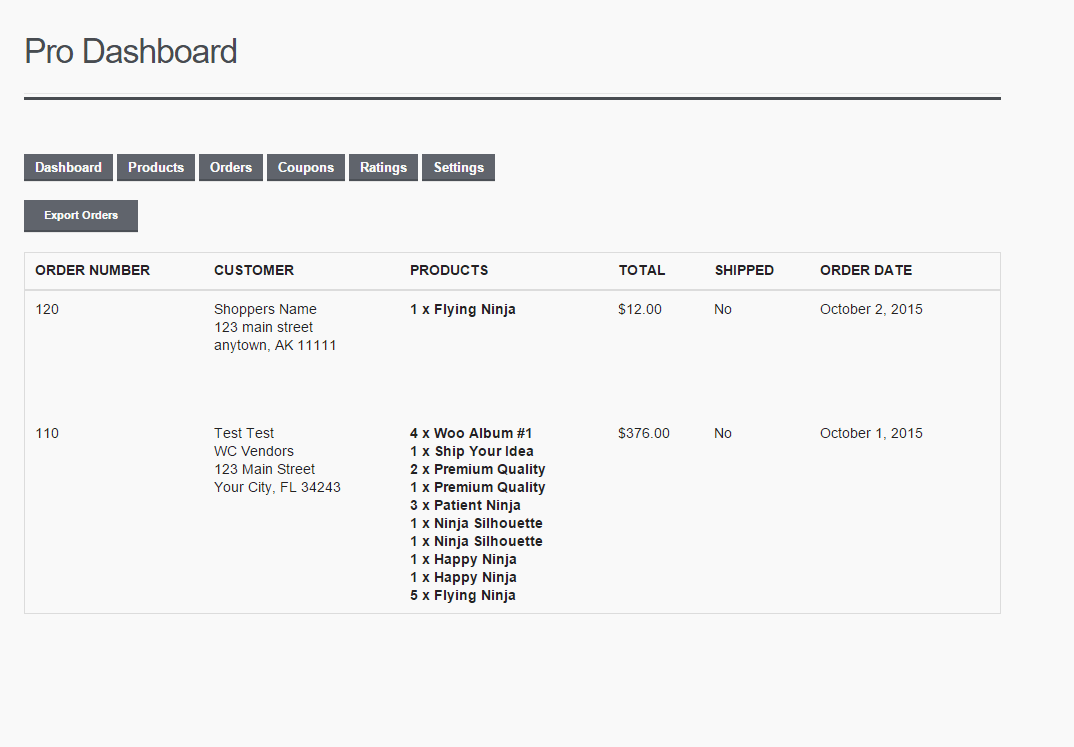 The emails the customer receives use the same templates as your other WooCommerce emails, this is what it looks like by default: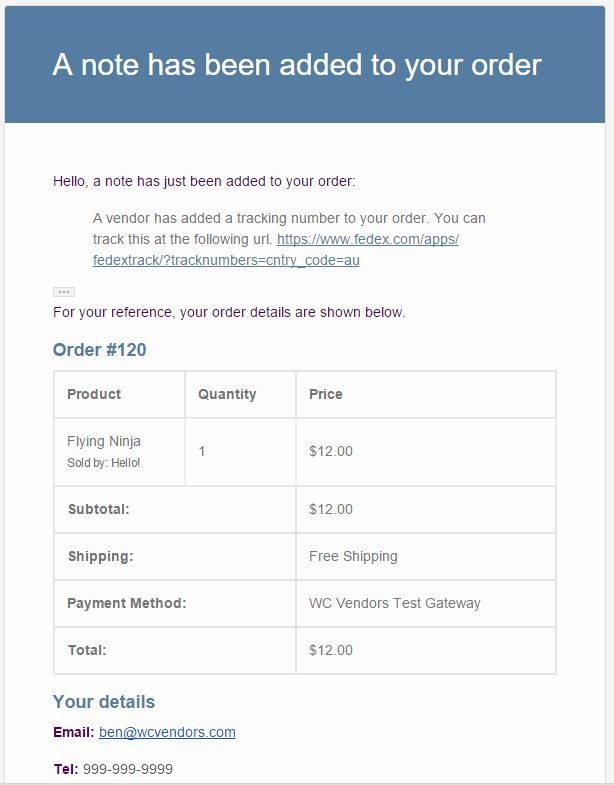 Ratings / Feedback
Customers can leave you 1 to 5 stars for your products by visiting their My Account page and clicking Leave Feedback. They can edit/update the feedback at any time, too, that way if you get a poor review you can work with the customer to make their experience/product better and perhaps they will update their rating! Note: Admins can edit/delete any ratings in wp-admin > WooCommerce > Vendor Ratings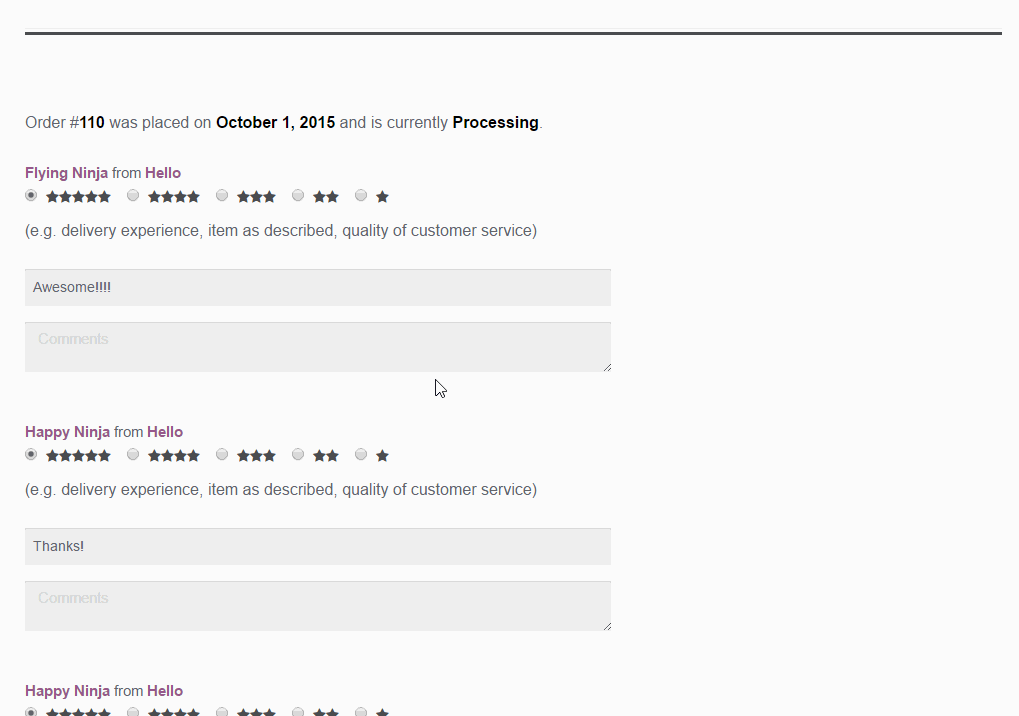 Coupons!
As a vendor, you can create coupons specifically for your products. These coupons will not work on any other products, except for those in your store. You can include only certain products, include all of your products, or even include all and exclude others, or even by category! Woo! It can be a percentage discount, or a flat dollar price reduction.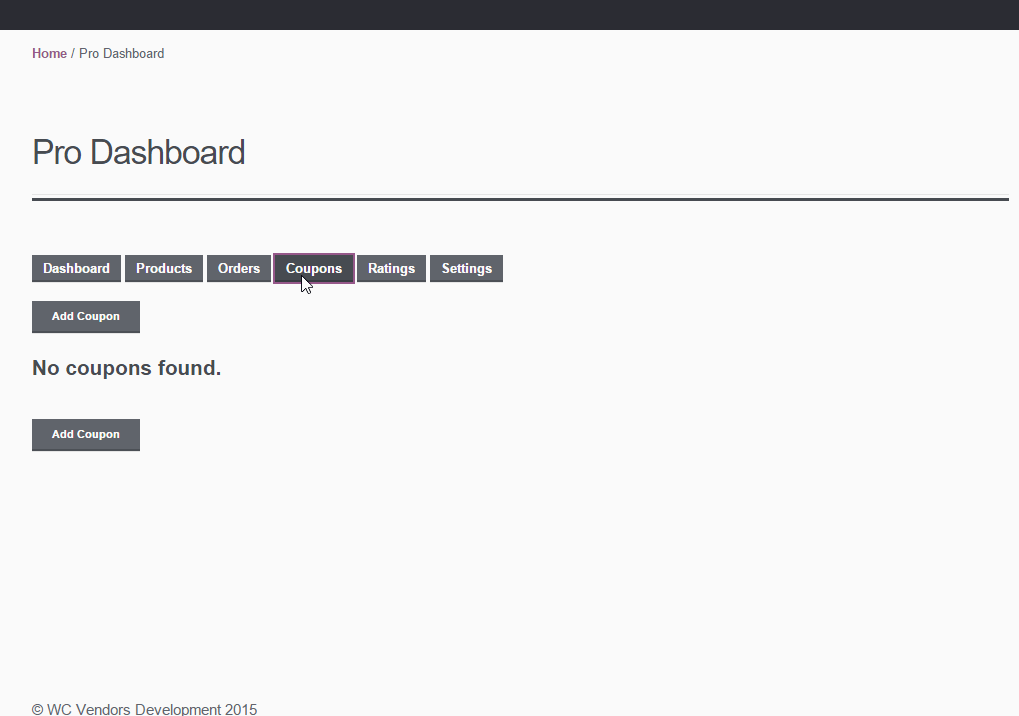 More Settings
…and these are really important ones! Such as your store name, description, social media links, phone number, banner images, and avatar/icons.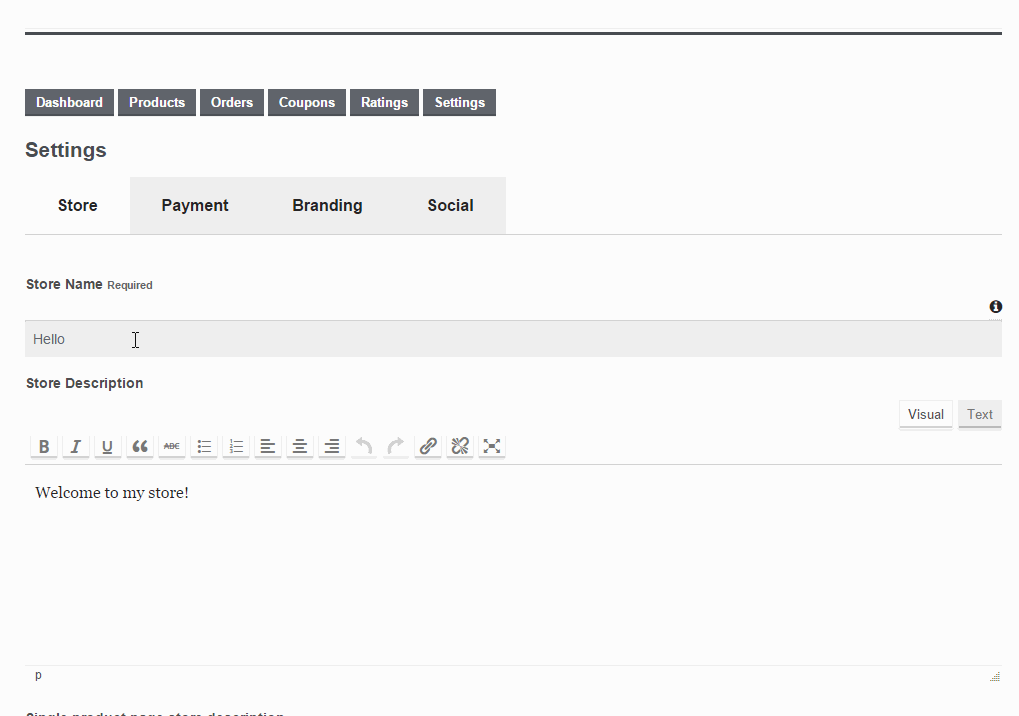 .
All of these settings impact how your store looks to the world.
.
That's it! 🙂 You're now ready to sell on the marketplace as a vendor.
Set up Related Products, Up-Sells and Cross-Sells
Products can be Related to each other in three ways: Up-Sells, Cross-Sells or by having the same tags or categories.

To add an up-sell or cross-sell to a product:
Go to

 

WooCommerce > Products

 

and select the product on which you'd like to show an up-sell or cross-sell.
Scroll down to the

 

Product Data

 

panel.
Select the

 

Linked Products

 

tab in the left menu.
Add the product you wish to link to by searching for it.
Update.
Note:
related products, up-sells and cross-sells are all sorted randomly.
Up-Sells
Up-sells are products that you recommend instead of the currently viewed product.
They are typically products that are more profitable or better quality or more expensive. Depending on your theme template, these products display on the single product page underneath the product's description.
Up-sells (user defined) show on the product page.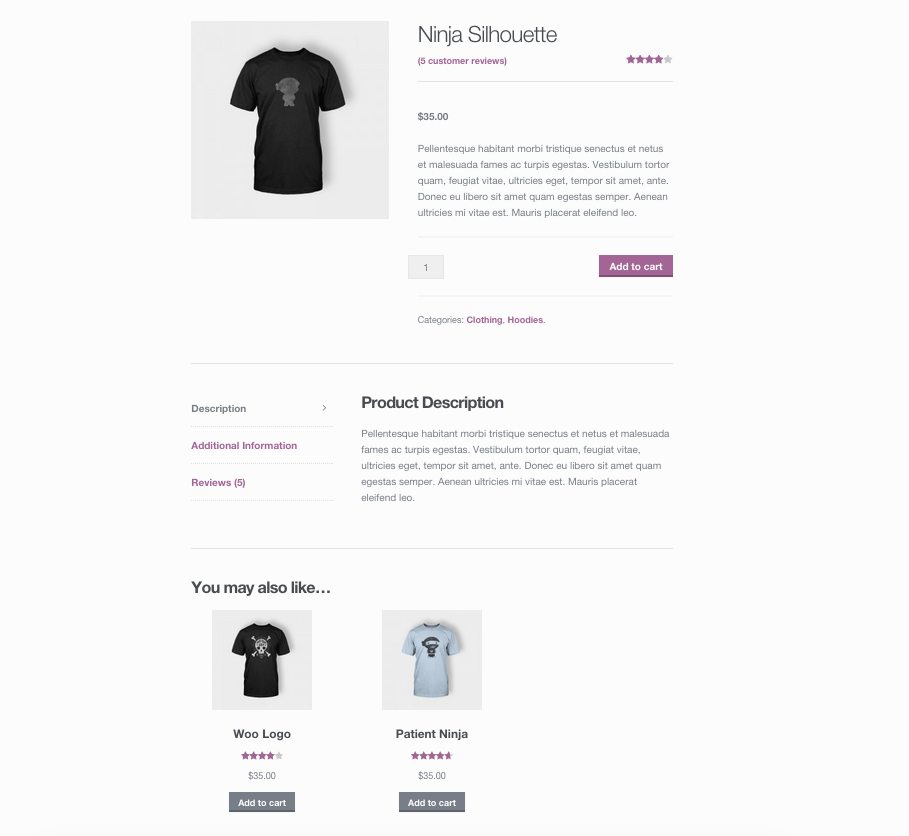 Cross-Sells
Cross-sells are products that you promote in the cart, based on the current product.
They are typically complementary items. For example, if you are selling a laptop, cross-sells might be a protective case or stickers or a special adapter. Or if you're selling a ninja t-shirt, they could be a ninja hoodie and ninja socks.
Depending on your theme template, they display on the cart page underneath the cart products table with a thumbnail image.
Cross-sells (user defined) show on the cart page.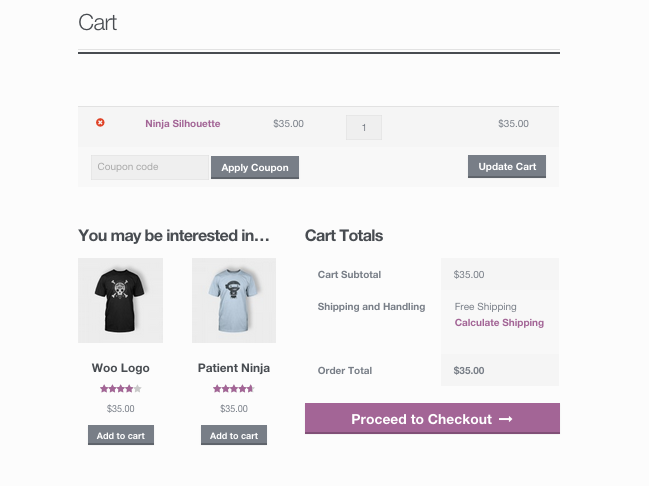 Related Products
Related Products is a section on some templates that pulls products from your store that share the same tags or categories as the current product.
These products cannot be specified in the admin, but can be influenced by grouping similar products in the same category or by using the same tags.
Related products (automatic) also show on the product page.